If Harry is ever going to be promoted to Lieutenant, it's high time he get a new look! Since I have made it my personal crusade to get Harry a promotion, I took it upon myself to drag the boy into a salon and . . . well, see the results for yourself!
Click on Harry to enter the salon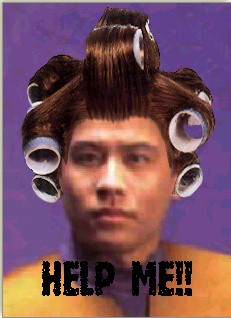 Contact the head FOLK
Don't you love disclaimers? The following is merely a JOKE! Can you say joke? So please don't sue me Paramount! If anyone wants to put these pictures on their page or anything, please ask me before you take it! On a personal note: I think Garrett Wang is hot just the way he is, and is in no need of a new look, but hey- anything is worth a shot if it's gonna get our boy a promotion right?? I used Cosmopolitan Virtual Makeover to make all the images, which is a way cool program my friend Rachel has, but if you don't have a Rachel, it's probably a good idea to buy the program yourself, it's way cool!!